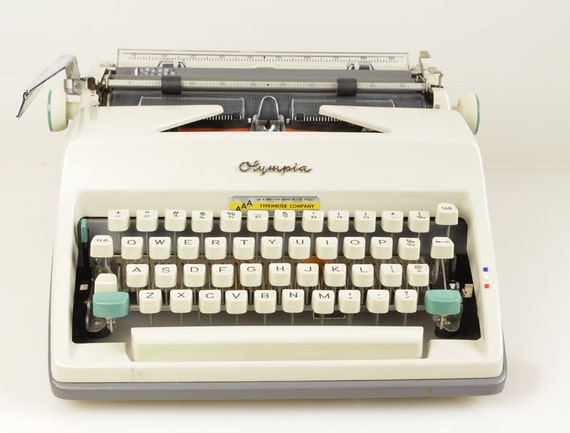 First, I want to apologize to my loyal readers for being MIA for so long. I finished my fantasy trilogy, and the first novel in the series is in the hands of a literary agent in NY (fingers crossed). I also started a new novel, a paranormal/horror/dark fantasy, which is about a third of the way done.
I don't think I'll be writing blogs consistently for a while, I may just pop in here and there. But, since I've been gone, I had acquired a gorgeous vintage Sears Tower Constellation Typewriter, sort of by means of a happy accident. If you're a writer, and you've never typed on a typewriter, I highly suggest purchasing one. It's difficult to explain the difference between using a laptop/computer or a typewriter, but I'm going to damn well try.
When typing on a laptop (which I could never live without), it's great for quick, fast typing, especially for longer works, like novels. But I find that I prefer using a typewriter for poetry and short stories. Something happens when you sit down at a typewriter. Something magical. It's just you, and the lovely machine in front of you. With laptops and computers, it's so easy to erase and backspace and delete, that you allow yourself to write whatever the hell you want no matter how crappy it is. But with a typewriter, the beauty of it all is that you have to really think about each word you type, because you know if you screw up, it's going to be far more difficult to erase, or you might not be able to at all depending on the machine you have. There's also something so beautiful about sitting at a desk in front of that old beauty, knowing she had a life before you. Knowing someone else sat at a desk and used her, perhaps to write a novel, maybe for love letters, maybe for poetry, but there is something poetic in and of itself.
The typewriter I was given a few months ago was sort of an accident. Keep in mind, I'd been wanting one for quite some time, but never allowed myself to splurge and spend somewhere between $100-$500 on a beautiful one, because if I was going to get one, I wanted it to be the typewriter of my dreams. I had an electric one for a while before this, so I didn't want to be impulsive or selfish and buy a manual just because I wanted to. Now, the little boy I babysit saw my electric typewriter about a year ago and he has been wanting a typewriter of his own ever since. I decided to google any listings of people giving away free typewriters in my area. I found a listing: free manual typewriter, with a phone number underneath. There was no picture. No description of its status if it worked or not. So I called the number, turns out the woman lived down the street from me, and the typewriter worked. I went that day to pick it up, and when she opened the case, I almost fell over. It was an almost exact replica of a typewriter I wanted months before but couldn't afford. It was a vintage Sears Tower Constellation in a baby blue color with white keys. The woman was elderly, and she said her parents gave it to her when she was in college, but she has no use for it anymore. I thanked her repeatedly, decided this was fate and I would keep it instead, and immediately put it to use at home once I bought a new ribbon. The little boy I babysit was given my old electric typewriter (his little sister broke it already).
Some of the keys were sticky here and there but it worked like a charm for months. Now, unfortunately, the J completely broke underneath due to rust and the N is on its last leg. I didn't care about splurging anymore, and when I saw that Olympia SM7 Deluxe on Etsy it was love at first sight. I HAD to have her! Since using the old manual typewriter, I can't picture my life without one. The magic, the romance, the beauty of the experience. I compared it to music; doesn't listening to a record give you a different experience than listening to a CD?
So, to writers everywhere, I just wanted to share this little typewriter love with you and give you some insight in to my personal experience using a typewriter over a laptop or computer.
And if any of you are on Instagram, you can find me there daily @christinakaylenhart where I post poetry I've written using my typewriter. See you there! Happy writing, everyone.